Instrumental Tube Fitting
(Instrumental Ferrule Fitting)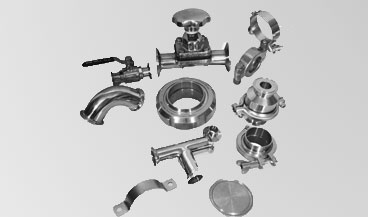 Being an exceedingly viable, incline and quick moving association, Mallinath Metal are profoundly instrumental in giving a predominant quality scope of Instrumental Tube Fitting | Instrumental Ferrule Fitting. These Instrumental Tube Fitting are outlined with exactness, we utilize best things to plan these Instrumental Tube Fitting alongside the imaginative innovation and look at legitimately on changed quality procurements. Also, our benefactors can take these Instrumental Tube Fitting with various stipulations. Our Instrumental Tube Fitting are generally utilized as a part of different spots in view of its ideal quality.
Grade: 304/304l/316/316l/duplex/brass
Size: 1/16"od To 2"od
Compression Tube Fittings are composed of four precision engineered components that is: NUT, BACK FERRULE, FRONT FERRULE & THE BODY, It becomes a four piece connections when affixed to TUBING
FRACTIONAL TUBING: 1\8", 1\4", 5\16", 3\8", 1\2", 5\8", 3\4", 7\8", 1" in OD


METRIC TUBING: 3, 6, 8, 10, 12, 14, 16, 18, 20, 22, 25 in mm


STANDARD THREAD:BSP, NPT, BSPT, UNC/AS, UNF, Metric & Other Threads
MANUFACTURER, TRADER & STOCKIEST OF :
---
Swagelok type double ferrule compression tube fittings


Parker type & ermeto type single frrule tube fittingd


Precision pipe fittings instrument threads(NPT, BSP & BSPT)


Brass compression fittings


Instrument needle valves, Ball valves & manifolds valves


Pipe clamps (STANDARD SERIES TUBE CLAMPS-DIN 3015)


Hydraulic type welding nipple with O-ring fittings.
Products:
---
Tube To Male Pipe Thread

---
Male Cnnector-MC
Bulkhead Male Connector-BMC
Male Elbow-ME
Male Branch Tee-MBT
MAle Run Tee-MRT
Tube To Female Pipe Thread
---
Female Cnnector-FC
Bulkhead Female Connector-BFC
Female Elbow-FE
Female Branch Tee-FBT
FemAle Run Tee-FRT
Tube To Tube
---
Union-U
Bulkhead Union-BU
Union Elbow-UE
Union Tee-UT
Union Cross-UC
Spare Components
---
Cap-TC
NUT
Back Ferrule
Front Ferrule
Bulkhead Locknut
---
Precision Instrument Pipe Fittings
Instrumentation Valves & Manifolds
Brass Compression Fittings
Pipe Clamps
Hydraulic Type Welding Nipple With O-Ring Fittings